Waiting for Friday and TGIF! (38)
Thank Grohl, Gauss, Glob, Galileo and Science it's Friday! The week's (almost) over, and these are our reading recommendations, curated for you by Julia and Lena, for your weekend or a lazy afternoon. Enjoy!
Open Source
Puppet Labs Community Manager Dawn Foster is an avid reader and talked at OSCON about what science fiction can teach us about building our Open Source communities.
Open source projects are better when they take advantage of a greater range of experience in the use and development of software. So it's always good to encourage diversity.
Reminder: fullfat DB is going away
The CouchDB Weekly News, July 31, 2014
Design
What web designers can learn from Disney.
If you're preparing for your next conference talk, keeping in mind the basic principles of presentation design might be a good idea.
Even if we hope it doesn't happen, here are some tips to make sure your client doesn't cheat on you.
The Web and Development
"Eloquent JavaScript" is an introduction to programming with JavaScript and can be read in its second edition online for free.
When it comes to scaling CSS projects, specificity can be quite a tricky thing to deal with.
Web components are great, but not every browser handles them the way you would want them to. Polymer and X-Tag are two projects that offer help.
"When the code is under 2,000 lines you can write any tangled garbage and rely on your memory to save you." – Norris Numbers
"The web is a — primarily neutral — tool for humanity. When you look at humanity you see the good and the bad, the wonderful and the awful." – Tim Berners-Lee on creating the web: 'I never expected all these cats'
Enriched Backend as a Service: a post on the spectrum, including i.a. Hoodie
The Tech World and Culture
Sexism in tech really is a global problem.
In his talk on open source and social change, Paul Fenwick also muses about inequality and ignorance in tech.
"How do you sniff out culture smells and determine if a company's work environment will be toxic to you? A large part of this depends on what you expect for your work environment, but there are a few questions you can use to screen companies." – Getting hired without getting burned: Sniffing for culture smells
"A certainty, like death, taxes. One day I will leave. I don't know what will be the last straw, although I might tell you, if I was sure I could trust you, what weighs down the balance. I don't know what I will do after, or when it will be. I just know that it will happen." – The day I leave the Tech Industry
Government Spying Undermines Media Freedom and Right to Counsel – Human Rights Watch: US: Surveillance Harming Journalism, Law, Democracy
The Business
In his personal blog, Travis CI's Mathias Meyer already wrote quite a bit about customer support. At Help Scout he gets back on the topic by stating "Everyone should be feeling the customer's pain".
Customers deserve to know what's done with their data. Privacy Notices is an open source project that provides developer with easy to understand short-form notices for their apps.
"Good leadership today means listening more, and encouraging feedback instead of discouraging it."
Not just something for freelancers: How to end the working week properly.
"For every story you hear about investors behaving badly, there are far worse stories that many women wouldn't dare to tell." – This is what Techs ugly Gender Problem really looks like
We <3
In 2011, screenwriter and producer Charlie Kaufman held a lecture, in which he tells you what it is you have to offer.
Create your own band and produce some nice weekend tunes. For hours and hours and hours … you might even get to see some bonus clips with the right combination of elements.
Remember how people used to hack systems in older Hollywood movies? Now you're also able to type complete nonsense and see actual commands on screen.
Lonely people are screwed. We desperately need other people, but studies show our brains can make us unpleasant company. – Guess I'll go eat Worms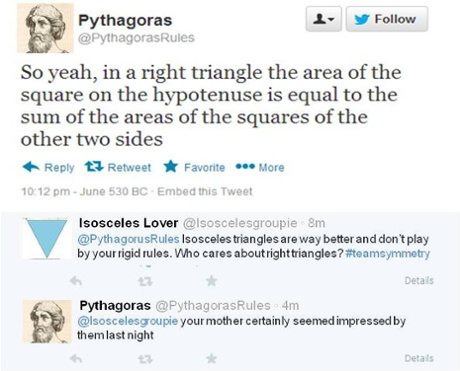 Great Moments in Science (if Twitter had existed)
---
Have a nice weekend!